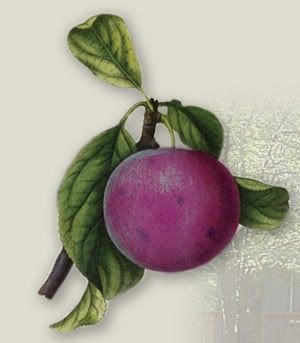 I have eaten
the plums
that were in
the icebox
and which
you were probably
saving
for breakfast.
Forgive me
they were delicious
so sweetand so cold.
~by William Carlos Williams
There are no plums in my icebox today for anyone to sneak and to eat and enjoy, or write poetry about . . . thatg would be because they have all been baked into an "
OH
MY
GOODNESS
, I just died and went to
Heaven
, scrumdiddlyumptious,
moreish
, indescribably
delicious
, fantastic, scrumptiously
wonderful
, incredible
Plum Cake
!!!

Welcome to Tuesdays With Dorie, the 23rd of September 2008. The day of the week that I, along with umpteen bazillion other bakers the world over get together and bake one delicious recipe in unison from that wonderful baking book.
Baking, from my home to yours
by the wonderful
Dorie Greenspan
!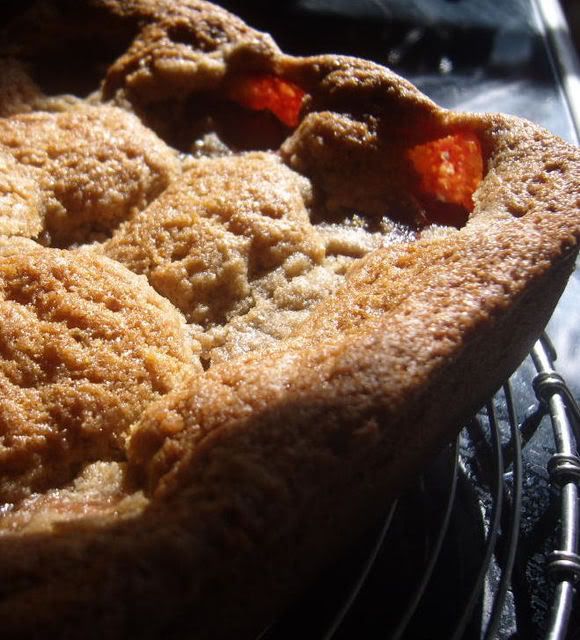 This week's recipe was Dimply Plum Cake, on page 41 as chozen by Michelle of
Bake-en
. Michelle, I have to say THANK YOU THANK YOU THANK YOU!!! This has to be my absolute favourite cake thus far that we have baked!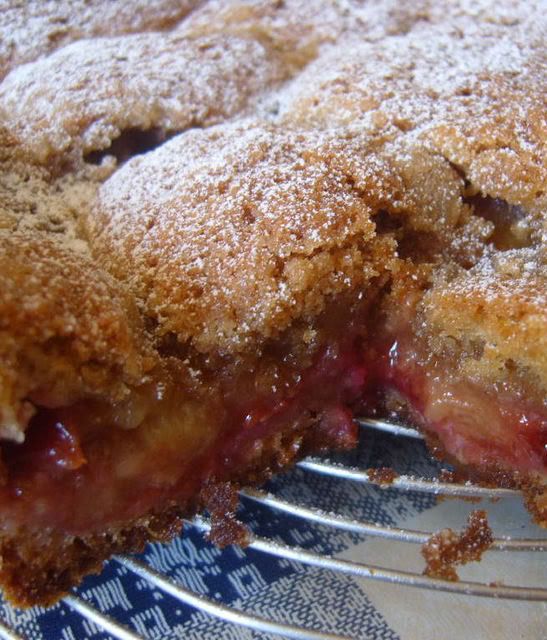 I love plums. The estate has quite a few plum trees. Usually every year they are dripping with plums. This year they are not. It's been a bad year for plums. On the television they said something about a wet spring and the trees not having been pollinated properly, or maybe I have that wrong, but all the fruit growers in this area are suffering from poor crops this year and they have thousands of trees . . . so what chance do a few plum trees on an estate have . . . . it's a shame really because they were quite lucious last year.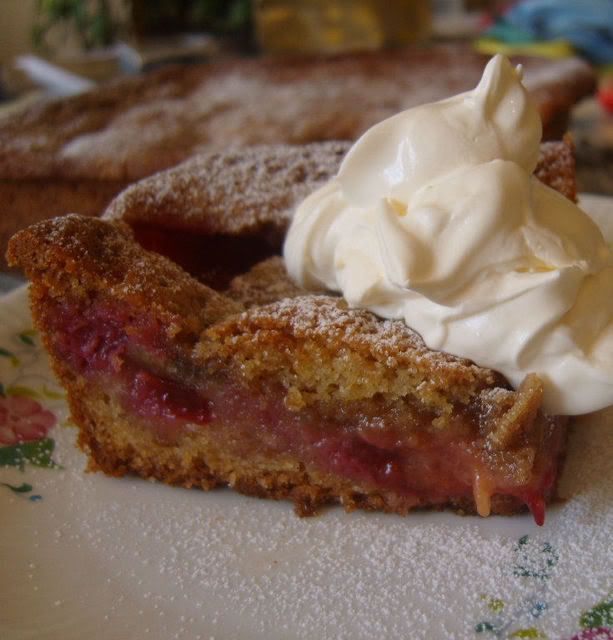 Nevertheless, however, the local shops are full of some lovely sweet plums and so I was able to buy a lovely big punnet of them just for this cake. Todd was under orders that he was not to touch these upon pain of death! (Do you do that to your husband? Tell him he is not allowed to eat this or that because it's for your blog? Force him to wait to eat until all photos have been taken and . . . . checked to make sure they are suitable for posting on your blog? Yeh? me too! now back to our regular programming . . . )
I knew this was going to be delicious as soon as I checked the ingredients in the batter . . . brown sugar, butter, ground cardamon . . . oh and plums amongst some other things. Oh, this sounded so good and the picture in the book, with all the plums all lined up and laying all tucked into a lucious looking baked cake batter. Yummo! I could hardly wait!
As I started to make the batter I thought to myself . . . there is only one thing that can possibly make this cake better . . . and that is to make a lovely brown sugar streusel to sprinkle over top of it before I pop it into the oven.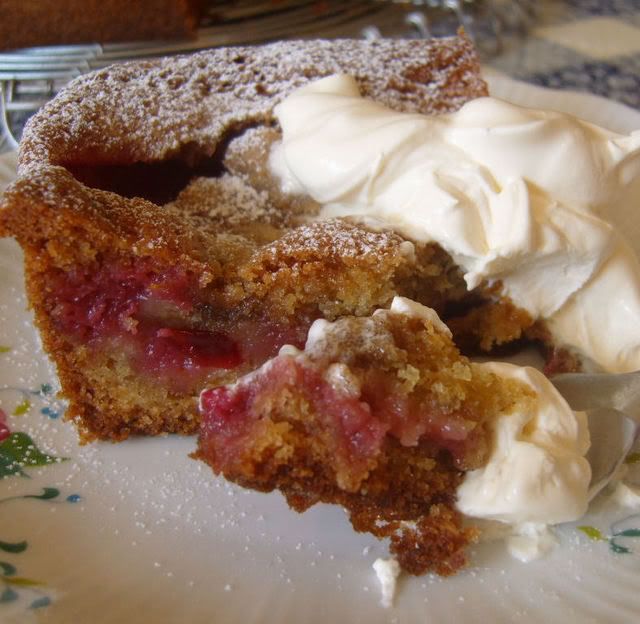 And so . . . once I had the batter made and spread into my pan and the lovely plums all halved and lined up like good little children, all in four lucious rows, that's exactly what I did. I made a delicious and buttery brown sugar streusel to sprinkle over top.
Mmmm . . . this smelled heavenly whilst it was baking. I could hardly wait to get it out of the oven. My taste buds were tingling from the get - go! I could hardly wait for my timer to go off!
It finally did and I checked, but it wasn't quite done yet and the plums had all sunk down into the cake. I probably had to bake it for an extra 15 minutes and this may or may not have been due to the streusel on top, I don' t know. This is probably what caused my plums to sink down into the batter as well, but let me tell you right now . . . This was NOT a problem . . . although I did think at first I had ruined it.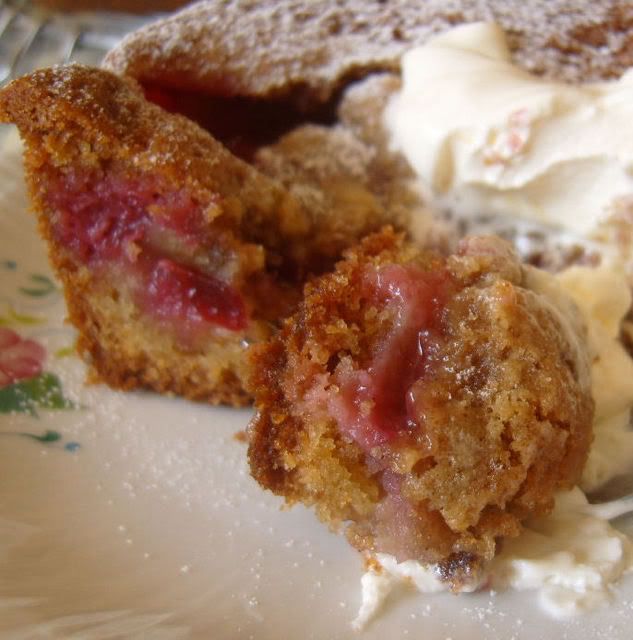 This was the tastiest, most delicious cake I have made in a very long time, sunken plums or not! From the moment my trembling hands popped that first wonderful forkful into my mouth, my heart did little pitty pats and flip flops and I could not help but utter a long, sweet sigh . . .
Bliss, pure and utter unadulterated Bliss.
That is what this cake is. RUN, don't walk . . . to your nearest store and pick up a punnet of plums TODAY and then come home and check out
Michelle's page
to get the delicious recipe. You won't regret it, I guarantee . . . although your hips might possibly quibble a bit about it as they are the ones that are totally going to suffer!!!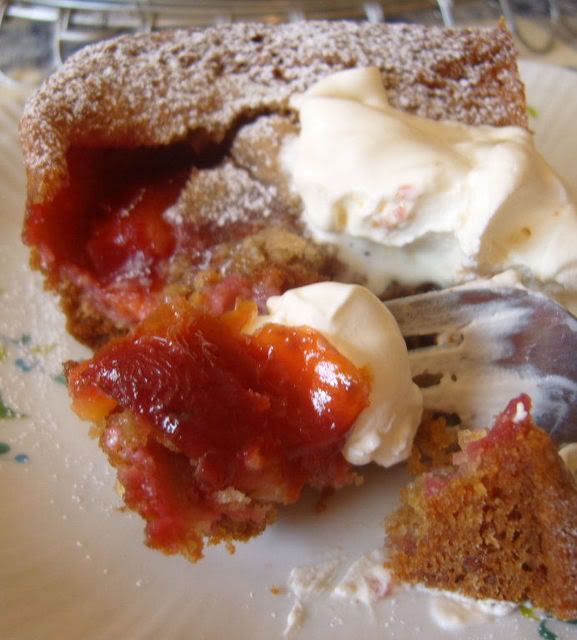 Todd decreed this cake, in between mouthfuls, as the best yet!
And I had to agree . . .
Next week's recipe will be Creme Brulee on page 393 as chosen by Mari of
Mevrouw Cupcake
. Great! I get to dust off my blow torch!!!
In the meantime make sure you check out the
Dorie Blog Roll
and see what all the other ladies have come up with!
And
Here's the recipe for the Brown Sugar Streusel I made . . .
*Brown Sugar Streusel*
Makes about 3/4 cup
I did not use this all for the cake, but don't worry, it freezes like a dream and can be used at a future date for more plum cake, or to cover a lovely fruit pie or whatever!
1/2 cup flour
1/2 cup firmly packed soft light brown sugar
1/4 tsp ground cinnamon
1/4 tsp ground cardamom
5 TBS unsalted butter, chilled
Whisk the flour, sugar, cinnamon and cardamom together in a small bowl. Cut in the butter until crumbly. Use this mixture to sprinkle on top of cakes, pies or whatever strikes your fancy!