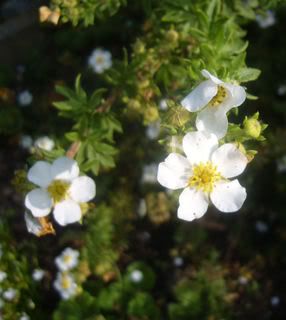 . . . the mess to clean after a party, because it means I have been surrounded by friends.. . . the taxes I pay, because it means I am employed.. . . the clothes that fit a little too snug, because it means I have enough to eat.. . . the lawn that needs mowing, windows that need cleaning and gutters that need fixing, because it means that I have a home.. . . my shadow who watched me work, because it means I am out in the sunshine.. . . the parking spot that I find at the far end of the road, because it means that I am capable of walking.. . . all the complaining I hear about our government, because it means we are able to enjoy freedom of speech.. . . my heating bill, because it means that I am warm.. . . the lady in church who sits behind me and sings off key, because it means that I am alive.. . . the piles of laundry and ironing, because it means my loved ones are nearby.. . . weariness and aching muscles at the end of the day, because it means that I have been productive.. . . your friendship and all the lovely comments you leave for me each and every day.~author unknown, last bit added by myself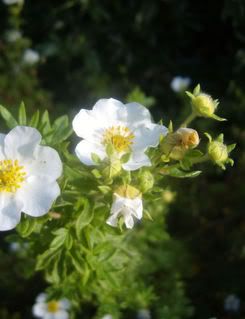 Late in the afternoon on this Sunday just gone past, Todd and I were lucky enough to receive a visit from our Home Teachers. For those of you who don't know, the home teaching program is a program instituted by our church whereby every family in the church has been assigned what are called Home Teachers. Two priesthood members who make it their duty to visit all the families on their assigned list each month at least once and who bring them a message of hope and spirituality and who see if the families need any help in any way, be it financial, spiritual or just a couple of extra pairs of hands to help with anything that might need doing around the house. A family can be a traditional family, with two parents and children, or a single parent family with just one parent and some children, or it can be a man and wife, or even a single person, male or female. Every situation is covered and taken care of, and as a person who was once single and is now married, I know how much and can attest to how much this program has blessed my life.
Anyways, these two men came to our home on Sunday afternoon. I know that it is a sacrifice for them to do so, and I was touched by their visit. One of them, works 15 and 16 hours a day, 6 days a week, to support his family. When he is not at work, he is watching his children so that his wife can go out to work and earn some money to support the family as well. It meant a lot to me, that he would take a few hours out of his one day off a week, to come and visit us. This time, he had his little boy with him, and as I watched these two righteous priesthood holders sit at our table and share a message of love and hope with us, I thought about that little boy sitting there and watching his father exercise his priesthood in a righteous and meaningful way, and about how very wonderful that was. I never saw my father pray. For that matter, I never saw my mother pray. I know that they do, but I have never seen or heard them. How wonderful that would have been when I was a child to have seen my parent's spirituality in action. What a powerful example that would have been . . . how very beautiful to witness.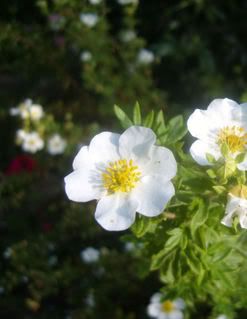 There is an epidemic of knife crime in our country right now. Young men and women carrying knives for whatever reason, and there scarce a day goes by when there is not another story in the newspaper about some youth having been stabbed and killed. A lot of it occurs in large urban areas, and is gang related. When you read the stories, and you read about the families of a lot of these young people, they often mention their mother's and their sisters or brothers, maybe friends . . . but you rarely, if ever, hear a mention of a father . . .
In studies that have been done in the US, it has been noted that much of the strength of gangs comes from their ability to provide their individual members with the love and acceptance that used to be provided by families, but is sadly lacking today in a lot of homes. Quite tragically a lot of youth are being brought up by young single mothers on their own, in homes where their fathers are largely absent and missing, or have never been around at all. What a difference that would have made to their lives if they could have seen the positive example of a praying and righteous father in their home, or a father that was not afraid to show other's that he cared and was brave enough to show his sons and daughters that he was a man of God.
I looked at this little boy on Sunday afternoon watching his father and his friend, and I thought about how lucky he was to have their examples to follow . . . and I was very grateful that I was able to see it as well. It really did my heart good.
The hedgerows that surround our cottage are filled to over brimming right now with lovely blackberries . . . sweet and plump and ripe for the picking. I made this lovely dessert for Todd at the weekend on the one sunny day that we had. He really enjoyed it!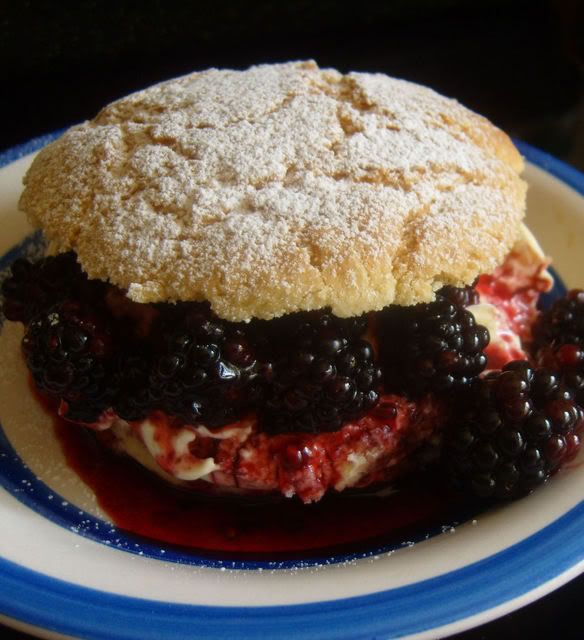 *Blackberry and Clotted Cream Shortcakes*
Makes 8
Imagine a crumbly, buttery shortcake biscuit stogged full of lovely rich clotted cream and sweet blackberries . . . this is a little bit of heaven on a sunny autumn day.
300g self rising flour
1 tsp baking powder
a pinch of salt
140g cold butter, cut into bits
100g sugar
75ml buttermilk
1 large egg, beaten
For the filling:
500g fresh blackberries
3 TBS sugar
275 pot of clotted cream
Icing Sugar for dusting over the tops
Pre-heat the oven to 190*C/375*F. Line a baking sheet with some parchment paper, or lightly grease it and dust with flour. Set aside.
Measure the flour into a bowl along with the baking powder and a pinch of salt. Whisk it all together and then tip in the cold butter. Working with the tips of your fingers, quickly rub the butter into the flour mixture until the mixture resembles fine crumbs. Stir in the sugar.
Beat the egg and buttermilk together. Make a well in the centre of the flour mixture and tip in the wet. Gently work it all together with a fork until it forms a soft, sticky dough.
Tip it out onto a floured surface and knead the mixture a couple of times. (it will be quite sticky) Pat out, about an inch thick and then using a sharp cutter (3 inch round) dipped in flour cut out 8 rounds and place each one on the prepared baking sheet at least 2 inches apart. (Alternately you can just shape the dough into one large round about 8 inches in diameter and place it onto the prepared baking sheet.)
Place into the heated oven and bake for 30 to 35 minutes until nicely risen and golden brown and a skewer comes out clean when inserted in the middle. Remove from the oven and let cool on a wire rack until needed.
To make the filling, lightly mash the blackberries together with the sugar. Split the shortcakes in two through the middle. Place the bottom halves onto dessert plates and spread with some clotted cream. Spoon some of the mashed berries over each and then top with the tops of the shortcakes. Dust with icing sugar and serve. (if you are using one large cake, do the same except with the whole cake on a larger serving plate. Cut into slices to serve.)