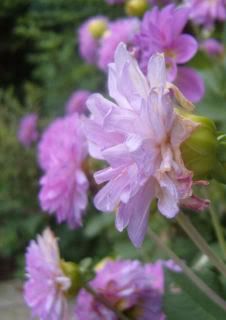 An old man showed up at the back door of the house we were renting. Opening the door a few cautious inches, we saw his eyes were glassy and his furrowed face glistening with silver stubble. He clutched a wicker basket containing a few un-appealing vegetables. He bid us good morning and offered his produce for sale. We were uneasy enough to make a quick purchase to alleviate both our pity and our fear.
To our chagrin, he returned the next week, introducing himself as Mr. Roth, the man who lived in the shack down the road. As our fears subsided, we got close enough to realize that it wasn't alcohol, but cataracts, that marbleized his eyes. On subsequent visits, he would shuffle in, wearing two mismatched right shoes, and pull out a harmonica. With glazed eyes set on future glory, he'd puff out old gospel tunes between conversations about vegetables and religion.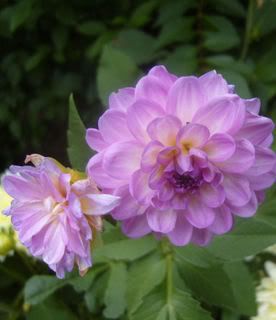 On one visit, he exclaimed, "The Lord is so good! I came out of my shack this morning and found a bag full of shoes and clothing on my porch."
"That's wonderful, Mr. Roth," we said. "We're happy for you."
"You know what's even more wonderful?" he asked. "Just yesterday I met some people that could use them."
~author unknown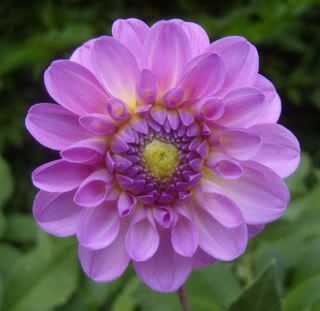 This little story reminds me of one Christmas a number of years back when my ex husband and I were doing really poorly financially. We had had to sell our house unexpectedly and as a result we experienced a huge loss on the sale of it. After struggling for some months afterwards, we had been forced to declare bankruptcy, not something we had really wanted to do, but with five children to feed and take care of, we hadn't really had much choice. One thing we had always done at Christmas was to make up a basket for someone in need and then, as a family, deliver it up anonymously to their doorstep on Christmas Eve. This was something that we had all really enjoyed doing each year and it was an important way of teaching our children about the joy one can get from reaching out to others in their need. In face we had always gotten so much out of that simple act of kindness that it was probably the most enjoyable part of our Christmas's together. It had become somewhat of a Christmas tradition for us all. There was no way that I could let the kids down that year . . . no way I could tell them that we didn't really have the finances to be able to do it that year. It would have been such a disappointment to each one of them.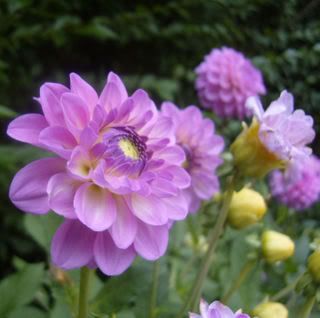 I still don't know how we did it, but somehow we managed to scrape together enough money to buy a small turkey to put into the box, along with enough items from our food storage to make up a pretty decent box. Along with a few extra trinkets and our last bit of cash tucked inside in an envelope, it made a pretty picture sitting on our dining room table on Christmas Eve afternoon, all decorated up in some fancy Christmas paper with a ribbon tied on it's side. We had already decided on a family in the local town that we would be giving it to . . . a family who's father had lost his job just a few months before. We all felt in our hearts that this was the right family to give it to. And so . . . off we went in the car to deliver it. We parked down the road and quietly crept up to their doorstep and then left it right where they would find it the very next time they opened their door.
That evening, Christmas Eve . . . I sat in the darkness of my kitchen looking out at the snow softly falling and thought about the many blessings I had despite our losses in the previous few months. We had our health, and we had the children and a roof over our heads. We had managed to be able to get them a few gifts for Christmas, and I knew they wouldn't be totally disappointed because we had never been the type of parents to over shower them with gifts at Christmas anyways. We might not have a turkey for our Christmas dinner, but I had managed to get us a nice big chicken to roast and we would have a delicious dinner anyways. The important thing was that we would be together. Life was good.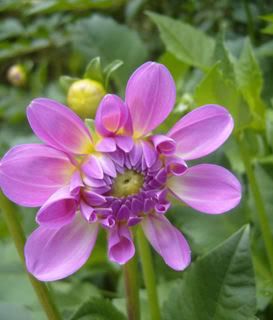 Imagine my surprise when just a few minutes later I saw a car struggling up the drive to our doorway. I watched it approach . . . and then, much to my wonder, I saw one of the elders from the church that we attended slip up to the doorway carrying a huge box in his arms. Inside that box was a turkey and enough vegetables to create a Christmas feast the next day and for a few days afterwards, some gifts for the children and an envelope with no less than $100 tucked inside. My eyes filled with tears, and they still do when I think back on that snowy Christmas night. Despite our not having had much, I hadn't realized that we, ourselves, were seen as a family in need. It was, for me, a very humbling experience.
Happy is the man that, despite his own need, is still able to reach out and give to others . . . that is where real joy comes from.
Every once in a while I like to make these delicious veggie sausages for our supper. They're kind of like a Cheese croquette, and to be perfectly honest we never really miss the meat. They're a wonderful testimony to the thrift and ingenuity of the Welsh people as that's where the recipe originated from.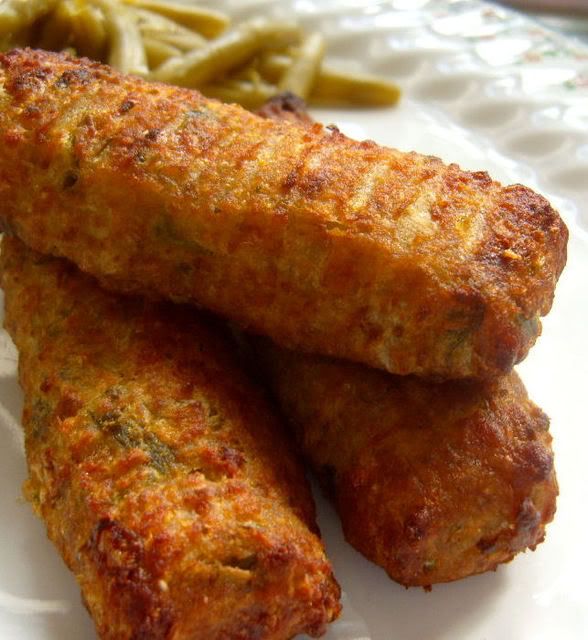 *Glamorgan Sausages*
Serves 4
Glamorgan sausages are the poor man's meatless substitute for the real thing. These are best made with stale, crusty bread rather than chewy, sliced bread. I like to put them together a day in advance, so they have a chance to set up nicer and firmer, and also so that the delicious flavours have a chance to deliciously meld together!
275g day old white bread, crusts trimmed off, cut into chunks
1 onion, peeled and cut into chunks
1 tablespoon chopped fresh flat leaf parsley
1 teaspoon thyme leaves
225 g caerphilly cheese or lancashire cheese, grated (caerphilly is a mild but tangy cow's milk cheese)
(If you can't get either of these cheeses, a good strong cheddar works well)
1 teaspoon Dijon mustard
2 eggs (divided)
8 tablespoons flour, to coat
3-4 tablespoons olive oil
Blitz the bread in a food processor to make fine breadcrumbs. Place in a bowl and set aside.
Blitz the onion, parsley and thyme in the processor until finely chopped and then add the cheese and mustard and process until finely chopped.
Scrape the cheese mixture into the bowl with the bread crumbs. Season well with salt and pepper, then add the 1 whole egg and 1 egg yolk, reserving the egg white for later. Stir well.
Use your hands to form the mixture into 8 to 10 sausage shapes.
Place the egg white in a bowl and whisk with a fork. Measure the flour onto a large plate. Roll the sausages in the egg white and then in flour to coat them well.
Heat the oil in a pan over medium heat and cook the sausages in it until they are nicely browned all over. Serve hot with some grainy mustard on the side.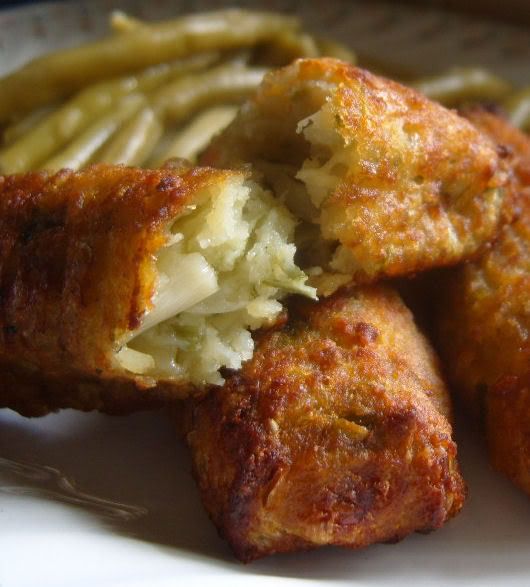 PS - Thanks so much for all your lovely Happy Birthday wishes. I had a lovely day yesterday despite having to work. I got some beautiful cards both in the post and at work, and Todd took me out to lunch at the local pub where we both feasted on some delicious fish and chips!