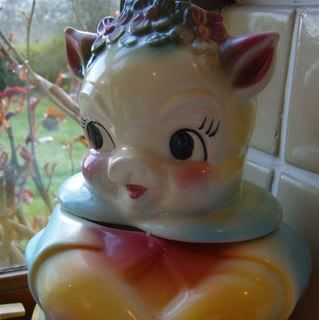 A house should have a cookie jar
For when it's half past three,
And children hurry home from school
As hungry as can be!
There's nothing quite so splendid
On which a child can sup,
As great granola grabbers
And sweet milk in a cup!
A child should have someone
Waiting with a hug,
No matter what they bring home,
A puppy or a bug!
For children only loiter
When the bell rings to dismiss,
If no-one's home to greet them
with a cookie and a kiss!
~author unknown

Welcome to the Tuesday, August 19th, 2008 Edition of Tuesdays With Dorie! This is the one day a week that I, along with umpteen gazillion other baking aficionados get together and bake a delicious recipe from that wonderful Baking Bible written by none other than Ms Dorie Greenspan herself,
Baking, from my home to yours.
It's a lovely group, which numbers over two hundred something of the nicest women, a few men and some of the best bakers on the planet! One thing we all have in common is our love for this book and it's author. Each week we get together and bake the same recipe and then compare notes afterwards, which is a whole lot of fun. If you be interested in participating you can check us out
here.
It's a very easy group to join,
all
you need is a love of baking and of course to own the
book
,
which can be purchased at Amazon.com for as little now as $6.23, which is a real bargain!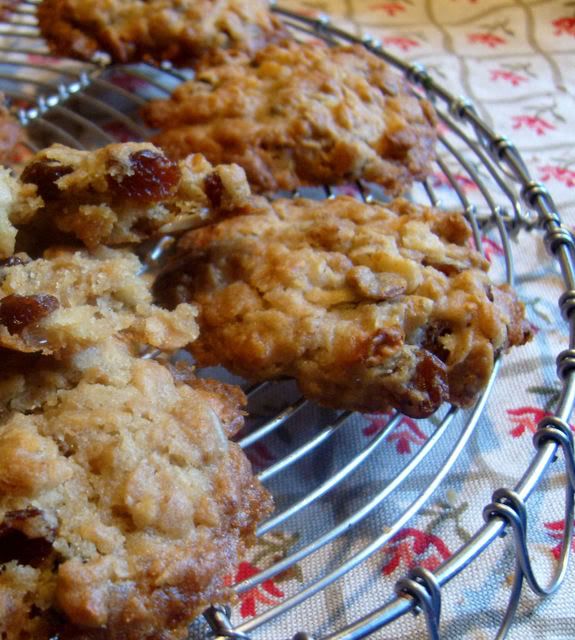 If you are thinking that this week's recipe had something to do with cookies, you would be right. This week we baked Granola Grabbers, from page 82, as chosen by Michelle of
Bad Girl Baking
. Michelle, Michelle, Michelle . . . you don't know what you did to me! I've had my head in the cookie jar ever since! These cookies are very
M

-

O

-

R

-

E

-

I

-

S

-

H
!!! (which is the British word for
A

-

D

-

D

-

I

-

C-

T

-

I

-

V

-

E
!!) Need I say more!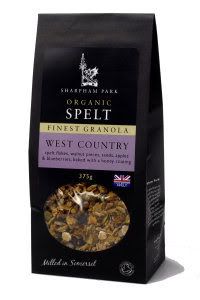 I really would like to say here that I had made my own granola to use in this recipe, and normally I would have had my own homemade granola to use, but this week for some reason I had none left and no time to go to the store to buy the ingredients to make it, sigh . . . However I did have a delicious bag of Sharpham Park's finest organic West Country Spelt Granola in my cupboard that was just begging to be used. It is a wonderfully tasty mixture of spelt flakes, walnut pieces, seeds, apples and blueberries, baked with a delicious honey coating. I know, I know . . . Dorie said it was best to use a granola that didn't contain fruit, but I had to use what I had to use and there was no way I was going to stand there and pick out all the fruity bits. I just took my chances!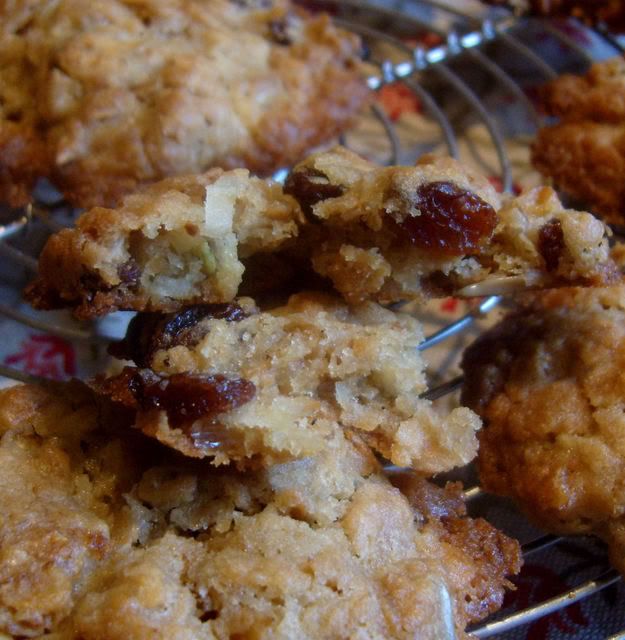 I am happy to say I had beautiful results with this recipe, despite the fact that my granola did contain some fruit. I didn't want to add peanuts as I have never liked whole peanuts in cookies, so I added some more walnuts instead. I also left out the almonds as I totally forgot them, but I did add an extra handful of raisins as Todd and I are both real raisin lovers. I didn't have any wheat germ either so that also got totally left out and replaced with nothing. I just went with the flow! I ended up with a lovely cookie batter that was a bit sticky but very easy to manage and wrestle onto the cookie sheets. It stayed together well and was very easy to scoop out onto the pans. I chose to roll mine into balls, which I slightly flattened before I put them onto the sheets.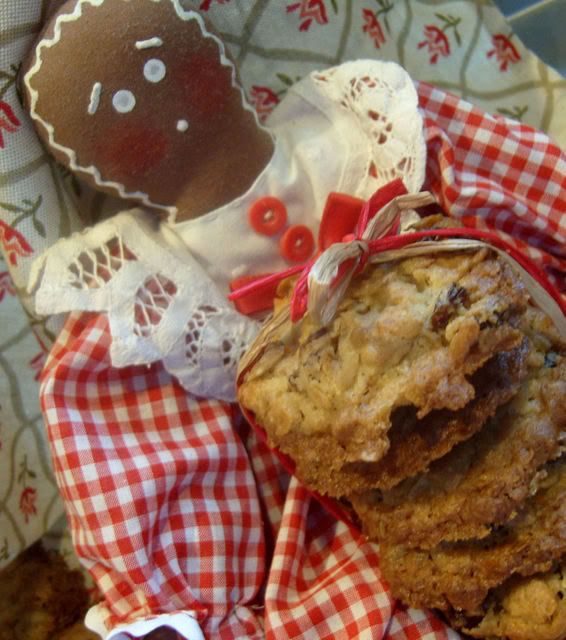 Oh my!!! But they did smell heavenly when they were baking, and, I confess, I did eat one or two (or maybe even three) while they were still warm from the oven. (It's a cook's prerogative you know!) I think another couple got eaten that evening while Todd and I were sitting in our comfy chairs watching the telly and I have been munching on them for breakfast ever since. (Granola is definitely breakfast food, doncha know!)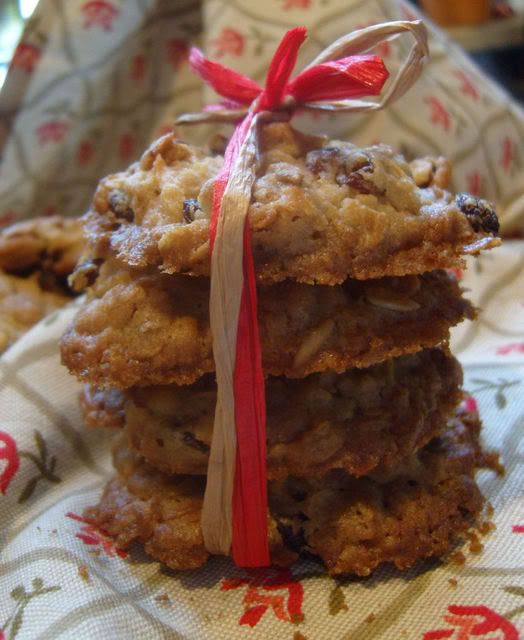 This was one of the nicest cookies I have ever eaten and I want to thank Michelle from the bottom of my heart for picking this delicious recipe! If you want to give these cookies a go, you will have to check out Michele's
page
later on today when she posts her entry. In the meantime I suggest you check out the
Tuesday's With Dorie
blog roll, where you can see a lot of the other delicious creations from this week!
Next weeks recipe will be Chocolate-Banded Ice Cream Torte, as chosen by Amy of
Food, Family and Fun
. Oh My Goodness . . . there goes the diet for sure!
And now . . . back to my breakfast . . . mmmmm . . . these cookies be mighty good!