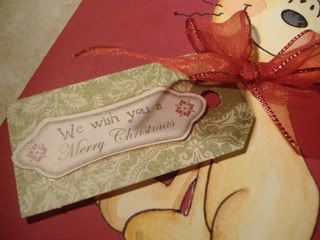 It's hard to believe that Christmas is only one week away. The time these past couple of months seems to have whizzed by at light speed! I had plans to do all sorts, but can clearly see now that there will not be enough time to get everything done . . . oh well, there is always next year.
We did manage to get our tree up and the cottage decorated. In that area Todd and I differ completely. He is from the old school, and he's not happy unless every corner is hung and festooned with glittery garlands and Christmas bling.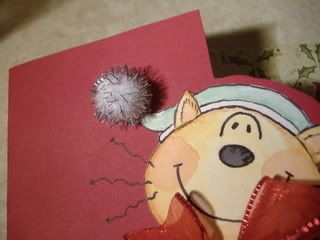 Myself, I prefer a more understated look, but each year I indulge him and allow his Christmas fancies to take over. He spent far too many years on his own, before we met each other, too many solitary Christmas's . . . I let him have his way and try to make up for them now, even if it means living in a cottage that closely resembles Santa's Magic Grotto for several weeks every year.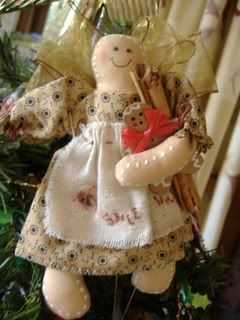 I have a fondness for gingerbread men and my tree is covered with them, in one form or another . . . some softly sewn, other's made of glass, ceremic or wood . . . all of them quaint and beautiful in their own unique ways. I do relent and allow a few Christmas baubles and balls . . .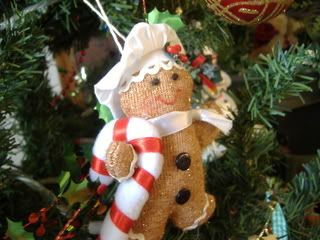 It reminds me of a tree that I had years ago when my children were all small and Christmas's seemed full of magic and child-like dreams. With five young bodies to please and not a lot of money in the bank, there was not much extra to spend for baubles and little pleasures on and beneath our tree. That year I decided that I would bake gingerbread cookies and decorate them to hang on the tree for decoration, along with red ribbon bows. The garland would be made of popcorn and cranberries that we strung ourselves, with white fairy lights sparkling in the background. What a fun time we had baking the gingerbread men and decorating them with white icing and cinnamon hearts!!! Each one was lovingly hung on the tree with bits of gold thread that I had been saving for just such an occasion.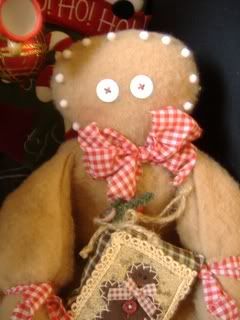 I splurged and purchased a few boxes of candy canes. They looked very festive nestled in amongst the branches. It took us what seemed like hours to string the popcorn and cranberries onto dental floss, but my goodness, they looked so pretty when we were done, with the added benefit being, that the birds would get to enjoy their goodness once Christmas was over.
We were so proud of that tree and to this day it remains my favourite of all the Christmas trees we ever had. Never mind that we chose the wrong recipe of Gingerbread. Although it had been nice and crisp when it came out of the oven, it softened as the days went by . . . our Christmas celebrations that year were punctuated by the occasional soft plop of the odd gingerbread man falling off the tree as the gold threads slowly worked their way though it's sweet and fragrantly spicy softening crust.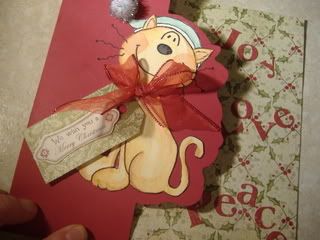 I think sometimes the best Christmas's of all are the simplest ones . . . ones with homemade cards, decorations and oodles of Christmas cookies and goodies to enjoy . . .
Like these lovely cookies. I call them Christmas Split Seconds. The recipe is based on another recipe I have for Jelly Split seconds, but one year I thought . . .why not mincemeat instead of jelly. It's such a Christmas thing . . . with the delicious hint of cinnamon spice in the buttery crisp base and a tasty and crunchy topping of cinnamon nut streusel, these are real winners! Not only that, they are quick to make . . . I suppose that's why they are called Split Seconds . . .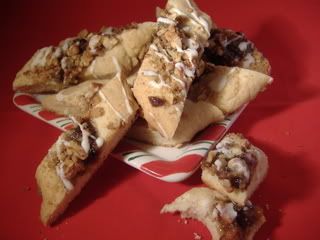 *Christmas Split Seconds*
Makes 4 dozen
Called split seconds because they can be thrown together quickly and baked just as quick as a wink, these are lovely Christmas cookies for your holiday cookie trays. They are good keepers and oh so very tasty!
2 cups plain flour
1/2 tsp baking powder
1/2 tsp cinnamon
3/4 cup butter, softened
2/3 cup golden caster sugar
1 large egg
2 tsp pure vanilla extract
1/2 to 3/4 cup purchased mincemeat
1/2 cup streusal topping (see recipe below)
Frosting:
1 cup icing sugar, sifted
Milk as needed to make a runny glaze
Pre-heat the oven to 180*C/350*C. Line two shallow baking sheets with parchment paper and set aside.
Sift together the flour, baking powder and cinnamon. Set aside.
In a large bowl, cream together the butter and the caster sugar until light and fluffy. Beat in the egg and vanilla, beating until smooth. Beat in the flour mixture until the dough is well mixed together. Divide the dough into quarters.
Shape each quarter into a long thick sausage shape on the parchment paper, each about 13 inches long and about 3/4 of an inch wide. Place the logs 2 inches from the edges of the pan and at least four or five inches apart. Press it a bit flat with your fingers and square it off at the ends. Taking the handle of a wooden spoon make a depression down the centre of each log lengthwise about 1/4 of an inch deep. Spoon the mincemeat carefully down the centre of each filling the depression. Sprinkle the streusal evenly over the top of each.
Bake in the heated oven for 13 to 18minutes or until they start to colour and are firm. Remove from the pan and while they are still warm and using a sharp knife cut each log into 12 diagonal slices. Slide the paper onto wire racks to allow them to cool completely before separating them. Once they are completely cold, make a glaze with the icing sugar and only enough milk to make it loose enough to drizzle. Drizzle some of this over each cookie. Let it harden before storing in air tight containers. Will keep at least a week, that's if you have them that long! They also freeze very well.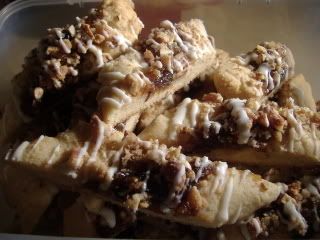 *Cinnamon Streusal Topping*
Makes 2 3/4 cup
This is very handy stuff to have in the freezer to use on muffins, cakes and cookies.
3/4 cup brown sugar
3/4 cup flour
1 tablespoon water
1 1/2 teaspoons cinnamon
1/4 cup butter, softened
1 cup chopped toasted pecans or walnuts
Mix all ingredients together until crumbly. Use to sprinkle over cookies, cakes or muffins before baking for a deliciously crunchy and spicy topping. You may freeze this and use as needed.
If you have a Christmas cookie you are wanting to share with the food blogging world be sure to head over to Food Blogga and get
all the details
. You can also go here:
http://foodblogga.blogspot.com/2007/11/christmas-cookies-from-around-world.html
to see all the tasty and delicious entries!